Our Company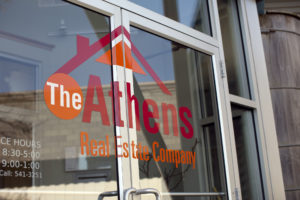 Founded in 2007, The Athens Real Estate Company is the largest, most innovative, creative and forward-thinking real estate company in southeast Ohio. At the core of our business philosophy is a commitment to extraordinary service, honesty, and clear communication.
In brief, we are NOT your "average" real estate company. You'll feel the difference the moment you walk into our offices, speak with us on the phone, or meet us in person. Our three experienced brokers, fifteen licensed agents, and full-time support staff are friendly, knowledgeable, and extremely hard-working. We combine the best in good old-fashioned customer service with the newest and brightest in technology and web-based marketing.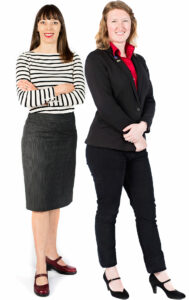 Our History
The Athens Real Estate Company is the result of a partnership between Liz Maule and Russell Chamberlain, both established real estate brokers and business owners in their own right, who decided to cooperate rather than compete! Liz Maule launched her own company in 2006 after over 20 years in the industry, while Russell Chamberlain began his start-up out of a double-wide trailer at University Estates in 2007. Like most small businesses, Liz and Russell started modestly, and through hard work and a "one house at a time" commitment to customer service, the two companies quickly gained market share in the area.
In 2023, Ally Rapp Lee and Amanda Sharrai teamed up to purchase the business. With their combined 21 years of experience and the support of the AREC family of agents, Amanda and Ally hope to sustainable grow the company over the coming years, while adhering to the values and ethics that have been the bedrock of AREC's success.
The Athens Real Estate Company is now the largest, full-service brokerage in southeast Ohio, and we carry one of the most comprehensive and diverse listing portfolios in the area. Our full suite of services is designed to meet all of your real estate needs: property management, residential and commercial sales, legal advising, foreclosure and REO sales, estate sales, real estate investment consulting, land and farm sales, and more. We are a one-stop shop, and whatever your goals in real estate might be, we want to help you achieve them.
Our Office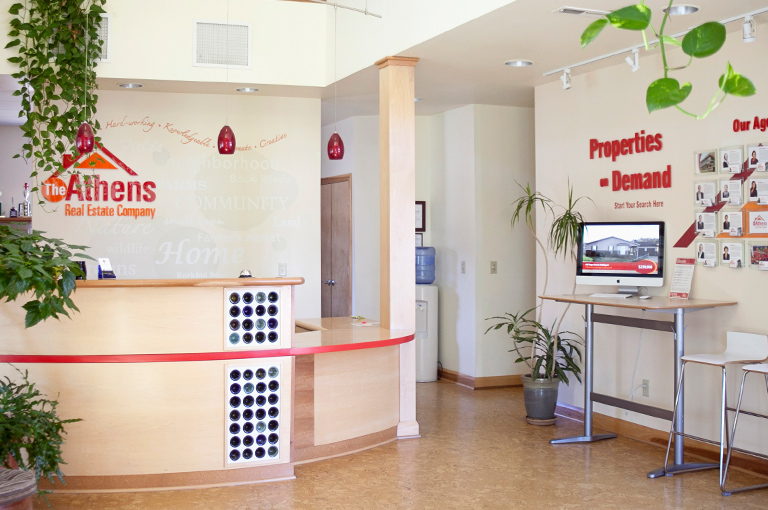 Since we're in the real estate business, we truly believe in a "bricks and mortar" approach to servicing our clients. Yes, we live in a digital age and our office and staff stay abreast of electronic technologies as they become available. But ours is not a "cyber office." We are real people who live and work in our community, and we work in real buildings that you can visit and touch and see.
Our Athens-based office truly a celebration of form and function. Designed and built specifically to serve our clients' need the building is a west side icon, offering picturesque views of the Hocking River and White's Mill, plenty of parking, and convenient access to uptown Athens and Routes 33, 50, and 682. As a counterpoint to the contemporary steel and glass façade, interior spaces evoke a more residential ambience, with plenty of plants, art, natural woods, comfortable furniture, and the like. Our real estate company also shares space (happily!) with the Slice Shop, a locally owned bistro serving specialty pizza, over-stuffed sandwiches, salads and other locally-produced foods.
Our Agents & Staff
All of this — the office, the technology, our history — would be nothing without our people. At the core of every successful real estate transaction is an agent or a broker who brings it all together. Our team of trained, licensed agents comes from many walks of life and they bring with them a wealth of experience and knowledge — not just about real estate, but about life in general.
So find the match that suits you best. We've got former and existing teachers, counselors, artists, attorneys, writers, doctors, farmers, horse trainers, entrepreneurs and more. Our agents are passionate about what they do, and they take their jobs seriously.
Our belief is that it's important to choose wisely both your real estate company AND your agent. So take into consideration not only an agent's individual experience and credentials, but also the "personality factor." Chances are, you'll be spending a lot of time with your agent, and you will come to depend on him or her to understand, react and adapt to your needs. Visit our Agent page to learn more about our agents, or contact Ally Rapp Lee and Amanda Sharrai for assistance in matching your needs to one of our experienced agents.
At The Athens Real Estate Company, we go the extra mile to make your real estate experience a great one. Just ask around. We're building our reputation one satisfied client at a time.